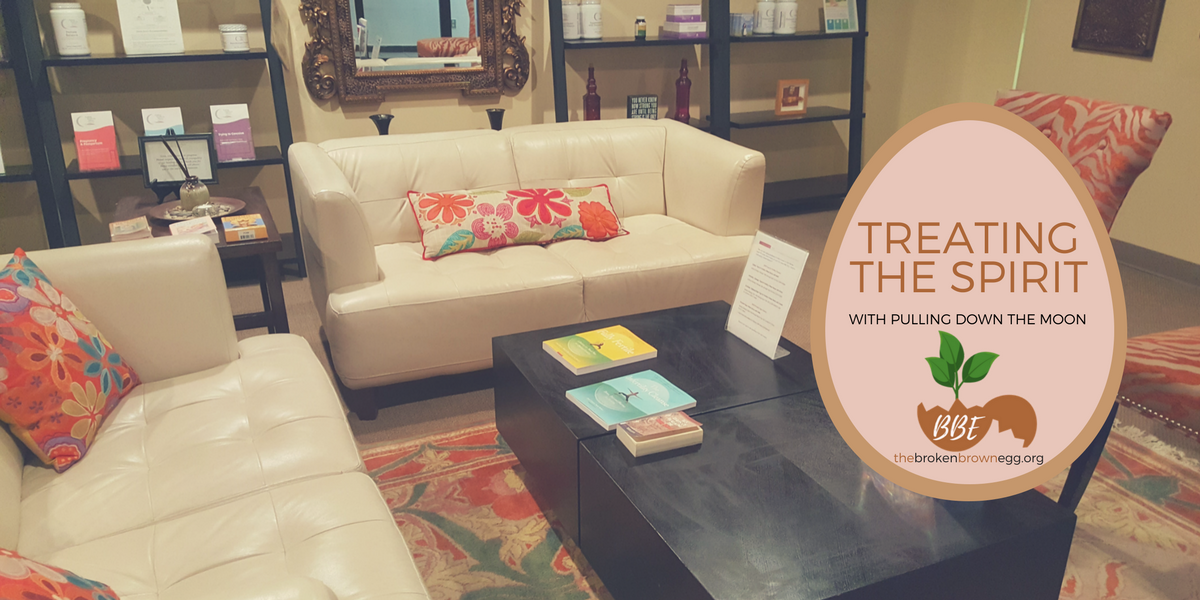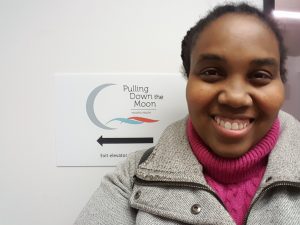 A couple weeks ago, I had the pleasure of visiting the Chicago office of Pulling Down the Moon Holistic Wellness Center and getting to know Michelle Johann, the business manager who describes herself as a "patient who never left". LOL  After visiting, it's easy to see how that can happen. I have to admit on both occasions that I've visited, I've had to remind myself that I had to leave.
Pulling Down The Moon was founded in Chicago in 2002 by two yoga practitioners, Beth Heller and Tami Quinn.  Two women who had themselves battled infertility and realized that the physical and mental health benefits of yoga could be pivotal for other women experiencing it.  Today, Pulling Down The Moon has multiple offices in the Chicagoland area, and they serve as consultants for the Shady Grove Fertility Wellness Center in the DC Metro area.  Partnering with one of the largest fertility centers in the country, Fertility Centers of Illinois, has proven to be an invaluable resource to the individuals and couples who have had the opportunity to experience the services that The Moon provides, however you don't have to be a patient of  their affiliated clinics to receive care, and you can seek out service even BEFORE starting a reproductive treatment plan.  The services include, Fertility Enhancing Therapeutic Massage, Acupuncture, Nutritional Supplements and Counseling, and of course, Yoga.  However, what I have learned from visiting The Moon, is that one of the most important services it provides, is comfort.
Entering the Chicago office, you walk into what is affectionately called the Tea Room, which feels like your best friend's living room.  A yoga class may be taking place just beyond, while in the Tea Room, you may see two women talking casually while drinking a cup of comforting herbal tea, or browsing the small resource library.  There is also a collaborative vision board with hopes and kind words. The space is warm, inviting, and somehow familiar.  Michelle describes it as a place where people find friendship.  And we all know how important that is when we're feeling the painful isolation of infertility.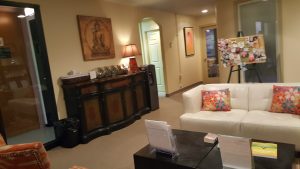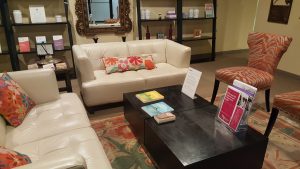 On this particular visit, I met Meredith Nathan, the Director of Massage.  She's friendly, encouraging and warm.  I was scheduled to experience the "Cleanse the Body™"  lymphatic detox massage, a massage designed to help clear the lymph nodes and reduce inflammation in the body.  As a person with PCOS, this massage was especially appealing, but what I really appreciated was that before the massage itself even began, Meredith sat with me and just talked.  We talked about a few of the things I'd listed in my intake forms, but also just about the journey in general, and the unique benefits that massage and holistic wellness can have on people who are experiencing infertility, loss, treatment, postpartum, and even menopause.
The Cleanse the Body massage is part of the FEM Protocol™ as it's called at the Moon, which is a series of therapeutic massages and techniques that have been designed to focus on and support the parts of the body that can positively affect fertility or fertility treatments.  These  techniques include aromatherapy, hormone balancing essential oils, reflexology, and more.  In the 75 minute sessions, there is a focus on breath, circulation and blood(which is ideal for implantation!), relaxation, and clearing your mind.  You can learn more, and hear Meredith describe Fertility Enhancing Massage in detail, on their website.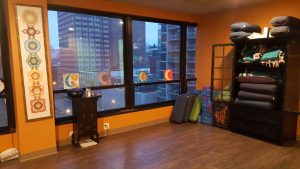 In talking with Meredith before and after my massage, I started to really understand that there is a definite benefit to having these treatments done by a center that not only understands fertility treatments, but works to move in tandem with them.  Her understanding of whether or not certain holistic methods negatively interfere with medicated cycles, or just what the body's needs may be going into or coming out of a medicated cycle was not only fascinating but I really appreciated it.  Which is also why I believe we should consider these kind of treatments before we start the more invasive medical interventions and use them as a vital piece of our care plan instead of a secondary resort.
Entering the massage room, with its dimmed lights, and soothing scents and sounds, I felt myself mentally slow down, and I realized that it was the first time I'd been allowed to just be still, for quite some time. No matter what stage of your fertility journey, we are in a constant state of stress.  Even if we think we're holding it together on the outside, there is a LOT going on internally and a lot of energy being devoted to holding ourselves together.  Most of us are so focused on just getting through, we don't often think we have the luxury of caring for ourselves.  But clearing our minds and preparing our bodies isn't being frivolous, it's important. Even beyond the physical benefits of massage, the idea of having the peace and ability to think clearly for two seconds, or to just be cared for, is huge.
So often we assume that holistic wellness or eastern medicine is something strange or intimidating.  Not to mention, as a black woman, I think there's so many things regarding our health that we've always assumed weren't the norm for us.  Neither of these things are the case.  The informative and friendly staff at the Moon, made me feel welcome and encouraged, and even after my visit, Meredith checked up on me to see how things were going and if the massage had been helpful in any way.  She was eager to answer any questions I had about the treatments offered there, but also genuinely concerned about my health.
We have to care for ourselves.  The infertility journey is hard, painfully long, and somewhere in the midst of it, we can lose ourselves.  Between the appointments, and the emotional ups and downs, we can forget that we're deserving of some treatment for our spirits as well as our bodies.  Whether that be a friendly face that "gets it", a relaxing yoga class to unwind your mind, or just a soothing cup of tea after a really hard day, we NEED care.  I found all of those things on my visit, and saw it in the faces of the others there.
On my way out, Michelle allowed me to pull a quote from their "quote box", and the one I got was "As we work to create light for others, we naturally light our own way" by Mary Anne Radmacher.  I'm grateful for people like Beth and Tami, who decided to light their way by bringing this awesome resource into the world for other women dealing with the disease of infertility.  I hope we all continue to light the way for each other, but also that we remember to bask in a little of it for ourselves.
Next Time: A few quick facts about Acupuncture by Pulling Down the Moon Acupuncture Director Christine Davis.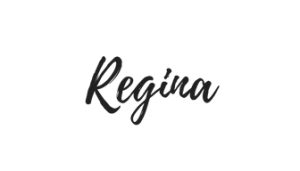 Regina
Regina Townsend is the primary author and founder of TheBrokenBrownEgg. A librarian and writer, Regina's mission is to make people aware and active about the unique concerns of reproductive health in the minority community.
You May Also Like