in
Latest
Fertility Fundraising & The Willingness to Help Others!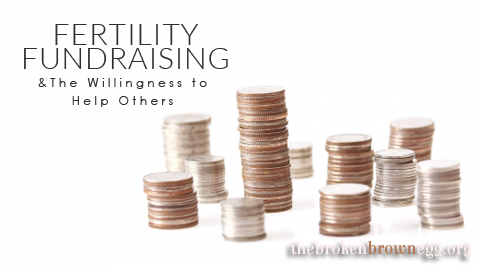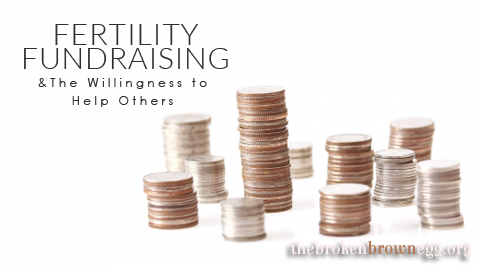 A few days ago, I witnessed a discussion on FB about people using crowd-funding sites.  Most of the comments were based around the idea of people who have taken to posting "Go Fund Me" pages for things that others have deemed frivolous.  Pay for me to go to hair school, or help us fund my sister's babyshower, are some of the topics I've seen across my Facebook feed through the last couple of years.  For the most part, I tend to ignore the ones that I know I can't (or won't) fund.  No harm, no foul.
In this discussion however, my spidey senses began to tingle when someone's response was close to saying that it's "tacky" to ask others to help "fund your dreams".
In theory, yeah, okay, I can see that on some level.  But then, as with most things, it made me think about those of us in the infertility fight, and how sights like GoFundMe have actually helped some of us do just that.  Is growing our families a "dream" that others should scoff at helping us fund?
Crowd-funding sites have helped many couples on the infertility journey find a way that they can allow family and friends who previously felt helpless, assist them on their way.  For many, the sites have given them the opportunity to take their own first steps into self-advocacy and find their voice.  Even if no one ever clicked the donate button, for a lot of couples, this was their way of boldly announcing just what their years of struggle had entailed, and how hard they'd been trying to work towards it.  I'm sure that countless individuals were able to at least send a message of support that was like a drop of water to someone dying of thirst.
Over the past few years, I've built up my skills at design.  When it was time for me to suck up my pride and work on raising funds for my own IVF, my husband and I decided that the best way for us to do that was to use my designs toward our dream.  I am also blessed to live in one of the few states that includes fertility treatment in health insurance.  Many times, however, I wonder what I'd do if I didn't have that skill or that health benefit.  How devastated would I be if I had no money to start from scratch, AND no tangible thing to use as a fundraiser?
I can only imagine.
As people continue to exploit these sites for all kinds of reasons, that many will no doubt judge, I'm sure that those who were already debating whether or not they should move forward with fundraising for infertility will decide to go back into the shadows.  There is a personal fight that many of us have when financial issues come into play in infertility.  It is the fight that whispers, "If you have to raise money to even do this, maybe that says you shouldn't do this".  We cower behind it, and swallow our sorrow, and retreat into defeat.
I don't want you to do that.  I want you to have a safe space to shout from the rooftops, "I'm struggling, and I would like some help."  Even if you never get a dime, I have always been about empowering others to self-advocate.
Fertility Fundraiser Fridays, will be a weekly promotional kickstart on The Egg, where I will share an idea for a cool Fertility Fundraiser, or a link to one that stands out.  We're in this together, and I hope your dreams come true.  Allow me to be your platform, and please, if you can, reach back and help someone else by sharing theirs.

Regina
Regina Townsend is the primary author and founder of TheBrokenBrownEgg. A librarian and writer, Regina's mission is to make people aware and active about the unique concerns of reproductive health in the minority community.