in
Latest
Fertility Fundraiser Fridays! – Backyard Cinema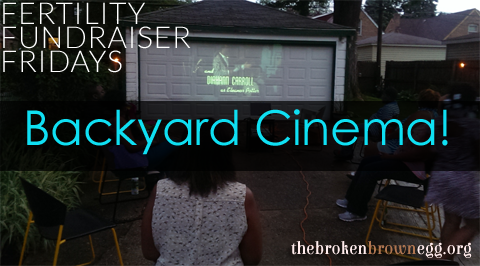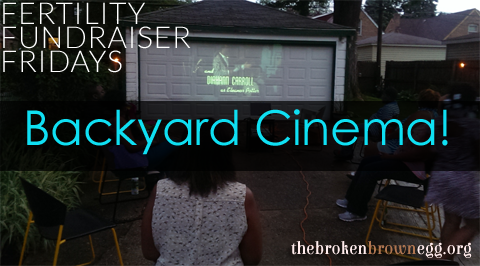 Looking for a fundraising idea?  Here's one on a smaller scale.  How about a drive-in movie?!
Supplies: A projector, dvd player, speakers clean garage door or white sheet, popcorn, beverages, candy
Who doesn't want to watch a funny movie with friends?  Right?  Right?  This summer, my family and friends came together to do just that.  I borrowed a projector from work, borrowed a musical from a friend, and asked everyone to bring their own lawn chair.  We met up around dusk, my aunt made chilli dogs and popcorn, and we enjoyed a nice warm evening together in her driveway and patio.
Now, while we did it just to hang out and enjoy the summer, it dawned on me that this could have easily been a fertility fundraiser.  I don't believe it's legal to charge for the film, but If I'd asked people to donate $5-$10 towards "backyard admission", or made snacks and run a "concession stand", I could have walked away with at least $100 to throw into my baby fund, without having spent a dime! Thinking outside of the box, ya know?
To avoid too much of a startup cost, I'd ask around or rent a projector rather than buying one if you don't already have one.  You never know who may have one lying around.  I'd also recommend making the snacks yourself rather than buying up a lot.  Also, resist the urge to go overboard cutesy.  It's nice to have little knick-knacks to give away, but remember, you're trying to raise money-not give it away, so maybe sending a nice Thank-You card over email, is better than purchasing paper ones or party favors.
If you do want to give something back, consider having a roll of raffle tickets.  Let people buy a few tickets and win a movie basket with a bag of popcorn, box of candy, and a couple of cheap DVD's.  All of these things can be found at your nearest dollar store, and you'd make the money right back(and more) just in the sales of the tickets!
Theres a few more summer weekends to be had, so think about this one, will you?  And if you decide to try it, don't forget to come back and let me know how it went!  Good luck, and happy fundraising!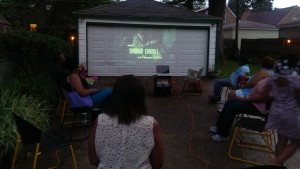 Regina
Regina Townsend is the primary author and founder of TheBrokenBrownEgg. A librarian and writer, Regina's mission is to make people aware and active about the unique concerns of reproductive health in the minority community.
You May Also Like