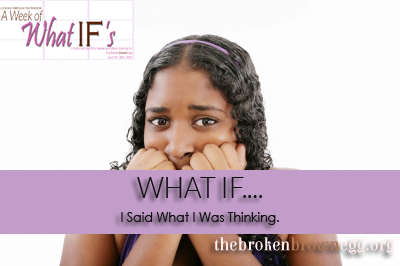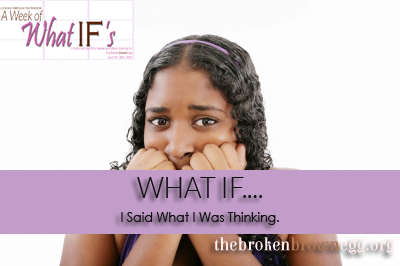 In the years that infertility and I have been going steady, my sensitivity to the things that people say and do without thinking, has fluctuated. There are times where I am super-sensitive and ready to slap down a RESOLVE pamphlet on anyone who utters something out of pocket, and there are times where I'm just like, "Ah, whatever…".
I wonder often if people think before they let words fall out of their mouths. I think I get so wrapped up in it because I know that most of us dealing with infertility don't have the luxury of just blurting out what's on our minds.  When in fact, there's usually so much going on in ours, that if we started, I doubt we'd ever be able to stop.
There are so many days that I find myself trying to control my feelings, and stop myself from blurting out something so direct and honest that it would ostracize me from the general population. Infertility does a good enough job on its own of making me feel separate and often less-than. It doesn't need my help. But there are days where I can't move. Days where I just can't stand to think about this any more. And I start to wonder to myself, what IF on those days, I said the first things that came to my mind?
What IF I admitted that sometimes I'm deathly afraid that this will never happen?
What IF I admitted that I see myself getting older, and losing time EVERY SINGLE TIME I think about this now.
What IF I said out loud how devastated I feel every time I think about my grandfather getting older and NEVER seeing any children of mine?
What IF I said that sweet children make me sad and not happy because I just can't stop feeling sorry for myself?
What IF I answered people honestly when they asked me how I felt every day?
What IF I told the truth when my husband asks "What are you thinking about?"
What IF I said "NO.", when someone asked me "Are you okay?"
What IF I told people when they were going on and on about nonsense, that I was barely alive, and that if they only knew how much it took for me to BREATHE every day, they wouldn't want me to waste my breath on trivialities.
What IF I was honest about how many times I have wanted to close this very blog because I'm just SICK of feeling like I'm in the same position I was when I started it?
Recently, I had a passing conversation with a person who is expecting, and sometime during our chat, she offhandedly said that she wished she weren't pregnant. Had I uncensored myself and told her about the FIVE couples I know who've lost babies in the last year that they'd prayed and fought to even conceive, I wonder what would have happened?
Maybe she would have thought more carefully about tossing phrases like that out into the atmosphere. Maybe she would have gotten offended that I'd "taken it there". Or maybe, at the very least, it wouldn't still be bothering me to have heard it.
I walked away from the encounter with a sour taste in my mouth. Should I have used that opportunity to educate this person about how many people struggle with childlessness? Should I have said that I was personally offended? Was it the time or the place for that discussion at all?  Was that one of the rare opportunities for me to actually say what I was thinking?
I wonder,…what if…
Featured image courtesy of David Castillo Dominici/FreeDigitalPhotos.net
Tags:
BBENIAW
,
BBEWhatIf
,
Breaking the Silence
,
Coping
,
Feelings
,
infertility
,
Miscellaneous Rants
,
NIAW
,
Random Thoughts
,
The Emotions
,
waiting
Regina
Regina Townsend is the primary author and founder of TheBrokenBrownEgg. A librarian and writer, Regina's mission is to make people aware and active about the unique concerns of reproductive health in the minority community.
You May Also Like