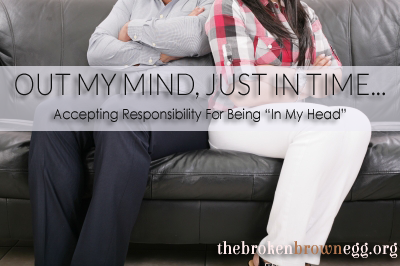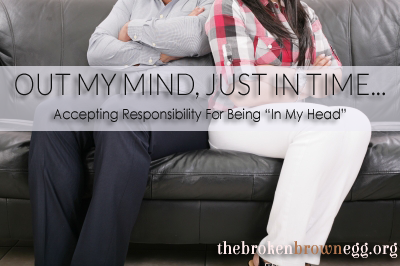 The great Erykah Badu has a song called "Out My Mind, Just In Time", where she laments, for close to eleven minutes about losing herself in a man she thought she loved, and how she gave more of herself to him, than she even gave to herself.  It's a beautiful song, really, that drifts in and out of changes that reflect the growth and depth of this over-thought and overwrought relationship.
And while she is clearly talking about a man who wasn't worth the stress, this is a feeling I had about my own damn self recently.  That I had been in a relationship with myself and my feelings about infertility for some time now, at the expense of my husband's feelings.  A relationship that it was clearly time to move on from.
There are things that you get to be selfish about in this journey.
You get to be frustrated when the medicines don't work.
You get to be annoyed when you have to have a painful procedure that no one else could possibly understand.
You get to be angry when you've spent six months losing weight to prepare for IVF, only for the hormones to put the weight back on.
You don't get to be so wrapped up in those feelings, that you forget to think about your actual wellbeing and progress, OR that you forget to think about any person who is on the journey with you.
It is very easy to assume, after going through so very much, that you are the only one who gets this. You and the other women who have had the pleasure of enduring shots, and invasive procedures, are the ONLY ones who can truly understand your particular pain.  Your loving, but clueless partner has no idea what you really feel like.
He is not hurting in the way that you are.  How could he be?  The most he had to do was get friendly with himself.
And can he rattle off the names, addresses, and phone numbers of the doctors, nurses, and phlebotomists?
I didn't think so.
That means he doesn't give a damn about it.
Can he quote you the appointment dates for the next three appointments?
I knew it.
He's practically not even in the game.
But, as we start to think those thoughts, here's the thing though…
Did we ASK him how he felt about everything?
Have you ever really thought about how it feels to him that he can't make you know how sufficient you are to him, when you're basing every piece of your worth on this?
Or how hard it must be for him to not know what to say when you're gushing the details of how you feel, out of fear that you'll only tell him he doesn't understand, or that you won't listen when he tells his own feelings?
Or how terribly, terribly embarrassing and uncomfortable it is to do something so private and intimate, and know that everyone in that clinic/office knows what you're doing?
Granted, most of what we do as women in this area, is invasive and humiliating.  Just getting through the preliminary workups, our pocketbook, as my grandmother would call it, is known from here to West Leviticus, and has made happy times with many an ultrasound wand or speculum.  But to be honest, as women, we are somewhat familiar with the stirrups.  For a man, so much of this has to be new and fast, and terrifying.
The more I started to think about that, the worse I felt.
I had made this entire thing, about me. I want this so badly, and I am so very tired of waiting, that I have become incredibly sad but ridiculously headstrong.  I will not waiver, because I feel like I cannot, even if it is just to stop and acknowledge that he's lost his footing.  I will drag us both over the finish line before I stop at this point.
And worse still, I've been so very tight-lipped about my feelings with everyone else, that he was catching ALL of it.  All the frustration, and the angst, and the polarizing aggression.  I was pouring everything onto him and leaving absolutely no room for him to feel anything of his own.
And as usual these days, that emotion led right back to anger.
I was angry that this stupid, stupid thing had once again made me a monster.  It had made me cold, and irrational, and impatient, and…
I was back in my head, making everything about me.  Making every emotion I was feeling, the fault of something or someone else.  It was my pity party, and I wanted to just cry and cry.
I couldn't let myself off that easy.  I was wrong.  Point blank and the period.
I was wrong for being in my head.  I was wrong for internalizing everything to the point of insanity.  I was wrong for stealing his voice and swallowing it into my own.
So why am I telling you this?  You're a perfectly respectable infertile, right?  You handle your stresses far better than I do, and would never dream of making your partner feel isolated and forgotten. Right?
But just in case you ever find yourself being the raging lunatic I discovered I was capable of being, remember these words I said to myself:
The worst battles we will ever fight, take place in our minds.  We play the hero and the villain.  We project words and actions and even thoughts onto those around us, based on our own insecurities and fears.  We lose sight of reality, and sometimes our partners pay the price.
This path is exhausting, and scary, and rough, and a whole heap of other adjectives I could throw in.  I am grateful that I don't have to move down it by myself.  I have to remember to appreciate and acknowledge that, before I ostracize the person who is walking beside me.
Get out of your head.  Quickly.  See things for what they actually are.
If he honestly isn't doing everything in his power to really be on the journey with you, then say so. Don't yell it or accuse it.  Address it.
If you discover, however, that you just weren't seeing the full picture, because you were too busy writing a new script in your head, then address that too.  Apologize, and move on.
This is just me.  You are perfectly clear-headed, and in control of your thoughts and emotions these days, right?  You would absolutely, positively just never, ever, be this person.  I know.
Right?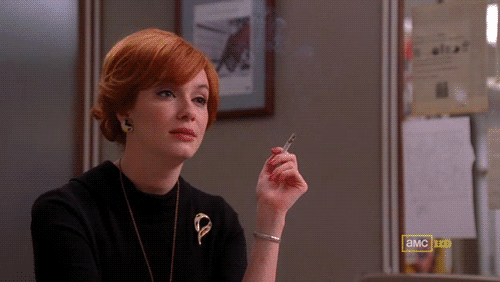 Regina
Regina Townsend is the primary author and founder of TheBrokenBrownEgg. A librarian and writer, Regina's mission is to make people aware and active about the unique concerns of reproductive health in the minority community.