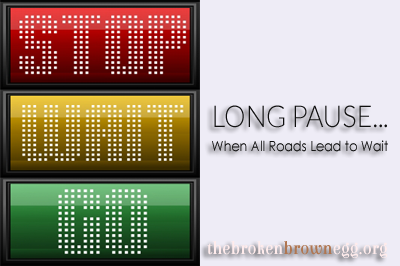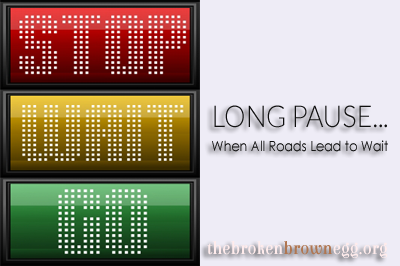 So, last month, I returned to the hospital for another hysteroscopy.  YAY!
I get to the post-op appointment two weeks later…Gyne says there was no polyp that she saw. Just my uterine lining stocking up for the apocalypse again.
So this giant lapse (a month and a half, which feels like eternity), was for nothing.  Or at least that's how I felt instantly.  I know it wasn't really, and that it was good to make sure everything was clear anyhow, but damn if it didn't feel like a waste of time.  A painful waste of time at that.
But whatever, it was what needed to be done.
So the next move was to return to the RE for our IVF consult.  This meeting is where we sign all the legal paperwork regarding cryo-preservation, legal intent, and consent forms.  This is also the meeting where most people learn of their IVF protocol.  Meaning, what medicines their RE has determined will be best for them, and some start dates.
Notice how I said, "most people".
Because as I told yall before, "if I haven't learned anything in this infertility battle, I've learned that NOTHING on this journey can be simple for me. NOTHING."
So, after we came in, she got right to it and said, "You've got three things working against you right now that we have to fight."
I took a deep breath, and she continued.
Your thyroid.  We have to get it down because it's too high.  We prefer it to be >2.5, yours was at three.
Your PCOS.  Which is apparently a ROUGH case.
At this, I cringed.  I have done my reading.  I know that with PCOS and IVF there are risks of hyperstimulation, and even an increased risk of miscarriage.  PCOS is a jerk.  A hairy, fat, jerk.  So I held my breath as she told me that my particular case of PCOS has already acted a complete ass.
The normal range of follicles a woman with normal or average egg quality has, is around twelve. 6 on one ovary, and 6 on the other.  But Regina?  Regina has Thirty-flippin-one.  13 on one ovary, and 18 on the other.
AMH stands for Anti Mullerian Hormone. This hormone gives doctors an indication of the estimated number of eggs a woman has left.  It gives the RE an idea of how many eggs they can expect to retrieve from you.  The normal AMH levels of women my age, are between 1.0 and 3.0.  In PCOS patients, AMH levels can run high.  My doctor has NEVER SEEN A PERSON WITH AS HIGH AMH LEVELS AS ME.  My AMH was 21.  Not 2.1, TWENTY ONE.
So do I have a great possibility for egg retrieval?  On the surface, yes.  But having done the research, I knew what that really translated to: I am at high risk for hyperstimulation during IVF.
In other words, my follicles may get a taste of those sweet hormone meds and go "fat kid at the buffet", and my cycle could be cancelled.  She even mentioned that she may have to cut my doses in half just because of my risks.  WTF, lady bits?  What are you doing?!!
My body's a damned overachiever in every area except weight loss.
But remember, she said there were three issues.
After all this time, the next blow, is that we now have male factor infertility also! YAY!!!  We won!
We have been referred to urology now.  To which we won't get in until next year.  Depending on what is required, that pushes the IVF process to at least February.
So, all the craptastic news out of the way, we continued with the other parts of the consult and learned all about the risks of IVF, had the painful discussions about things like selective reduction, and even what to do with our embryos if we divorce or one of us passes away. Then came the great layout of costs for preserving embryos, $1100 up front and $450/year after, and the cost of preserving "backup" sperm for retrieval day, $350.
Fun, right?
And then to add insult to emotional injury, I got some yucky news about the little one who we were planning to adopt earlier this year.  She's fine!  But the info was yucky nonetheless.
I got in my feelings for a hot second.  Mostly angry, not sad.  Angry that we'd waited before following up with the male factor information.  Angry at the Illinois Department of Children and Family Services, yet again.  Angry to be on hold yet again.
Then I just stopped.  I reminded myself to calm down.  I reminded myself that now was the time to focus on others and not myself.  Prayers for that precious baby girl, and love to my husband who got his own bad news today.
That being said, I'm giving myself permission to be a tad p'd off today.  And prescribing my OWN meds for a change.  Thanks to my sorority sister for the appropriately named gift.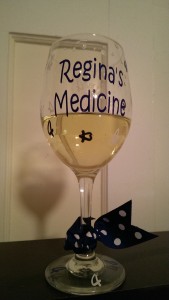 Featured image courtesy of digitalart/FreeDigitalPhotos.net
Tags:
Conditions & Diagnosis
,
Coping
,
Feelings
,
Finances
,
Hissues
,
infertility
,
Information
,
Medicines & Treatments
,
Regina
,
The Emotions
,
Treatments
,
waiting
Regina
Regina Townsend is the primary author and founder of TheBrokenBrownEgg. A librarian and writer, Regina's mission is to make people aware and active about the unique concerns of reproductive health in the minority community.