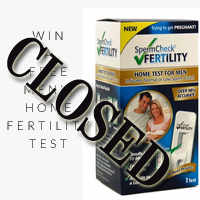 While much of a woman's journey into fertility treatments is invasive and frustrating, there has to be something said for the guys who have to endure their own little corner of TMI. Aside from the stereotypical machismo and pride associated with men having their fertility checked, there is also the embarrassing and intrusive aspect of having to visit a doctor's office to have their sperm collected and checked.  Fear of the results themselves, and the actions necessary to receive them, could leave some couples waiting much longer than they need to.
So I am super excited to offer a way around that.  The SpermCheck Fertility Monitor is a private, easy, and convenient home sperm count test, and I'm pleased to announce that the good people at Fairhaven health have given me a free one to pass along to one of you!
The test is super easy to take.  Here's the quick rundown:
Collect a sample in the cup provided, and let it sit for at least 20 minutes.
Using the transfer device(syringe) provided, stir the sample 10 times, pull the plunger back and collect the sample till you get to the black line on the tube.
Transfer the sample into the solution provided.
Let sit for 2 minutes
Open the testing tray, drop 6 drops onto the opening marked with "S"
Wait 7 minutes and read your results!
That's it.  A positive result indicates that the sperm count is above 20 million sperm per milliliter, while a negative result signifies that the count is under the 20 million sperm per milliliter threshold, and you may want to schedule a follow-up test with your doctor.  Don't panic!  The doctors will do that same thing even if you'd have taken their test first and gotten similar results.
Today is my birthday, but I feel like giving presents rather than receiving them, so get in on this giveaway!  I want to help you break down another barrier to your success.
Regina
Regina Townsend is the primary author and founder of TheBrokenBrownEgg. A librarian and writer, Regina's mission is to make people aware and active about the unique concerns of reproductive health in the minority community.
You May Also Like