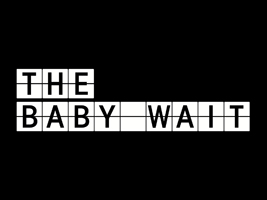 Long time no blog.
I know. *slaps own hand*  "Bad Blogger!"  But come on in, have a seat…
If you hang with me on Facebook and Twitter, then you know I haven't really left, but that I've just been extremely more quiet about what is going on inside my own journey.    There's good reason, I promise.  
The primary one being:
I was depressing myself!  And scared that I'd start depressing you too!
So I pulled back, decided to focus on advocacy rather than self, and let myself get buried underneath so much work that I didn't have time to feel as bad for myself.
After the D&C, and the other procedures, I really lost a lot of my fight.  I got extremely tired of it always being a door after each door.  Take this test, now try this pill, then use this technique, now hold your breath, and don't forget to keep a good attitude!  So I stopped.  EVERYTHING.
But I knew I couldn't stop forever, so in November, I decided that I would set a goal for myself.  You'd think by now, that I'd learn to stop giving my body ultimatums, but apparently I'm hardheaded and can't be trusted.  So I told myself that I had until Mother's Day 2013 to be officially headed into motherhood.  Be that pregnant, in treatment, or in adoption classes, I gave myself until Mother's Day.  I was determined to NOT spend another Mother's Day of people sending me "But you're a great GODmother" messages, or "You'll be a great mother one day" texts.  I was going to get to that finish line, or at least see it in my windshield.
So imagine my surprise when my husband told me that he'd been contacted by a close family friend about adopting a baby which was due in February.  At first I balked.  That was like three months away!  And I have always had my reservations about adoption anyway.  People can change their minds, it could cost too much, and open adoption gave me the willies.
But as we thought about it more, we decided we wouldn't rule it out.  Instead, we went on with our lives for a couple months because we didn't hear anything else about it.  Then close to the end of January, we got a call again, asking  if we'd be willing to step in.  We prayed about it, talked to an adoption attorney, and decided that if this was how God was choosing to fulfill my Mother's Day ultimatum, then we'd at least trust Him enough to see where it all went.
So very quietly, for the past few weeks, I've been navigating the land of adoption.  It has been one of the most frightening, upsetting, exhilarating, and confusing situations I've ever found myself in.  I am emotionally exhausted.
So have we adopted?
No.
The birthmom changed her mind in the eleventh hour, which happens more often than one might think.   And as much as I'd prepared myself for that possibility in my mind, I cannot pretend that it did not rock my entire existence.  For God to allow me to see that finish line I was going on and on about, and then to pull it away, I felt betrayed.  I felt like God knew how badly I needed something good.  He knew how depressed I was.  He knew I wanted this more than anything, and He still allowed it to fail.   I was devastated.
Still am, sometimes.
Most who know me, know that I am a social media fanatic.  (in a good way if that's possible)  It is a rare day that you won't see me on Facebook, Pinterest, or some other clickplace.  But I shut everything down.  I watched the entire 11 seasons of Frasier on Netflix, and played over 1000 games of FreeCell Solitaire.  I was ANGRY, do you hear me?!  PISSED to the highest level of pisstivity!  And utterly sad.
I thought I was done.  I thought I was finally going to chuck infertility the deuces and laugh in its face.  I thought I wouldn't have to think about IVF for a year, and I'd instead be able to move at a comfortable pace.   And I was wrong.
And I don't like being wrong.  About anything.  I broke.  At one point, I even let the words come out of my mouth that  I was finished.  If trying to do something as "simple" as being a parent was going to take all this b.s., then never mind.  I could use my money on manicures and day spas or something.  Maybe I was destined to always be the aunt and the godmother who takes everyone else's children to the museums and zoos.
And in the meantime, I was seeing so many people talk about me being mentioned in Essence.  And so many more people were coming to The Egg on Facebook.  And I started to think that maybe God was telling me that I am supposed to help everyone else…and not get success for myself.
And I think that those thoughts hurt more than the actual situation.
But I don't lie to you.
When I post on Facebook that you should Keep Going, and that I'm Behind You…that is real talk.  When I say Don't Give Up,  I'm talking to both of us.   I'm super sad…but I've decided that my goal is to not decide I've had enough, until I'm certain I've done enough.
And for me personally, I had to realize that God doesn't work that way.  He doesn't bait me.  He doesn't hold things at an arm's length to tease me or torment me.  He is in the midst even when I feel so very alone.  And I have to trust Him although I have absolutely no idea why or what He's doing when He's doing it.
AND, I have awesome friends and family who have checked on me, and encouraged me, and cussed for me, and for that I am eternally grateful.
Now for the twist:
So in the meantime, though we aren't in an adoption process, my husband and I are caring for a newborn anyway while the birthmom gets some solid footing.  We're opening our home and our hearts to stand in the gap for someone who wants what we want essentially; to give this child a mother.  Now whatever happens from here, I have no clue, and I'm done trying to figure it out.  We are going to proceed with our plans to pursue IVF, and just see what happens.
So there's the gist of where I've been.  I'll try and post more detailed accounts of specific things we've encountered during these past couple months, but for now, I just wanted you to know that I am moving, albeit slowly and silently.  I've decided that I'm going to KEEP moving.  I hope you'll decide that too.
Tags:
Adoption
,
Anger
,
children
,
Confusion
,
Coping
,
family
,
Fear
,
Feelings
,
Foster Care
,
Frustration
,
infertility
,
Mrs.Tiye in Real Life
,
parenting
,
Regina
,
Sadness
,
Tales From the Darkside
,
The Broken Brown Egg
,
The Emotions
,
waiting
Regina
Regina Townsend is the primary author and founder of TheBrokenBrownEgg. A librarian and writer, Regina's mission is to make people aware and active about the unique concerns of reproductive health in the minority community.
You May Also Like