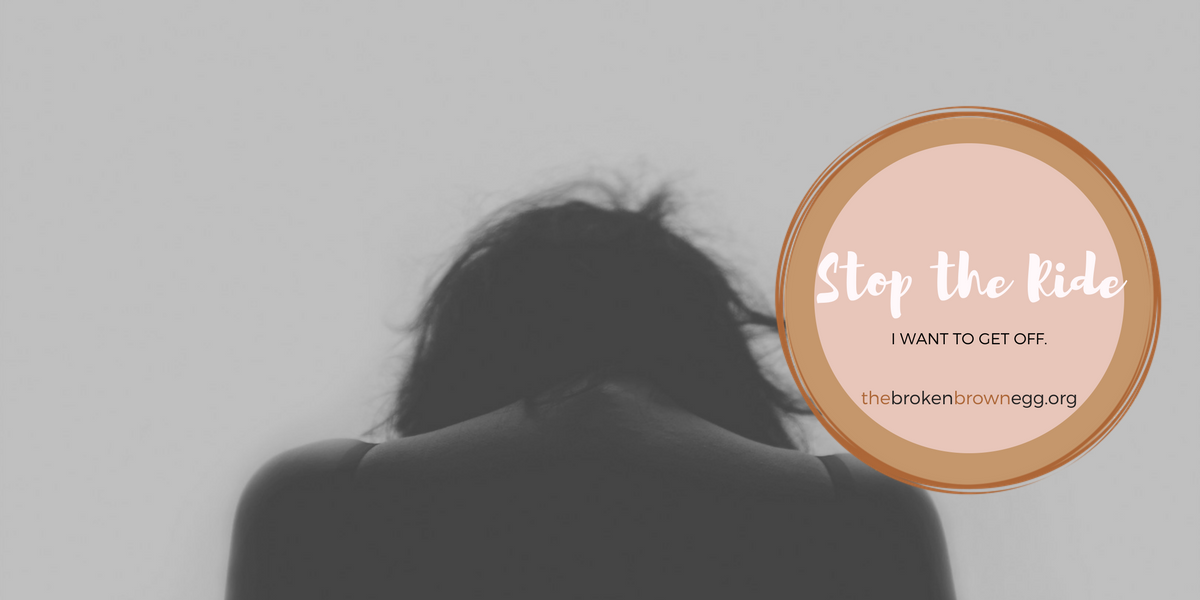 So…
This will be one of those TMI, tell-all posts.
Let me give a couple of you some time to clear the room if that's not what you're here for…
There now,
So, I'm annoyed and confused today.
Purpose of D&C & hysteroscopy – To diagnose and stop irregular bleeding
Result of D&C – 9 days more of irregular bleeding.
Now, I know what you're thinking:
Be patient, Regina! That's completely normal!  These things take time… blah, blah, blah.
But let me hip you to something I've been keeping silent for a while out of embarrassment, frustration, and a self-destructive need to make sure no one sees the kinks in my armor:
Out of the past 90 days, I have bled in some form or fashion for a total of 67.
SIXTY-F@#%-SEVEN.
I have bled longer than Chad Johnson and Evelyn Lozada were married.
If I bleed another 6 days, I will have also outlasted the nuptials of Kim Kardashian and Chris Humphries.
In the time that I've bled, cats, armadillos, bobcats, mice, rabbits,  some dog breeds, and many other animal species have fully gestated.
Are you seeing why I'm pissed?  Just a bit?
I've taken Estrogen supplements, Glucophage, Birth Control Pills, Thyroid meds…and yet nothing.
I've purchased approximately EIGHT boxes of Always…each with 32  pads included.
There's these special packs of Always pads that come with free Modeez Sanitary packs…  Yeah, I got FOUR Modeez now.
I'm tired of being tough.
I'm tired of being resilient.
I'm tired of acting like I'm not feeling like I'm literally bleeding to death.
I'm tired of nurses saying, "Yes, but are you bleeding through more than one pad in an hour", in condescending tones.
I'm tired of feeling eeks and squeaks whenever I sneeze, or stand up too fast, or at random times while sitting absolutely still.
I'm tired of EVERY television show, magazine, book, and conversation being about sex and babies….to point out that I can have neither.
I'm tired of looking at my husband and HATING that he deserves better that what I am capable of providing at the moment because I'm depressed, and infertile, and uncomfortable, and hormonal.
I'm tired of feeling like I'm wearing a diaper every day.
I'm tired of being angry.
I'm tired of being sad.
I'm tired of being told to pray.
I'm just tired.
And I felt it necessary to say that today.
Out loud for a change.
Because who am I helping with this website that I'm paying for, if I don't tell it all?  Especially since that's what I started the site for.  And how am I even helping ME, if I'm not using this website that I'm paying for, as my venting space. And what more damage will I do to myself if I don't shout?
I called my doctor today.  Because once again I felt that I'd reached my breaking point.  I was told that this is normal.  This post-op "spotting" as they call it.  And I don't know, maybe under different circumstances I'd be okay with that answer.  Maybe if I hadn't already been experiencing it for the past 60+ days then I could not feel so defeated when the nurse once again tells me that "if it isn't bleeding through one pad in an hour, I can just wait until my follow-up appointment next THURSDAY".
Next Thursday.
Next Thursday is 5 days, 127 hours, 7628 minutes, 457706 seconds, and another 30 Always pads away.
At this point in my life, next Thursday is practically a year from now.
And I have lots of curse words floating around in my head to punctuate my feelings about that.
I just don't understand any of this.
Regina
Regina Townsend is the primary author and founder of TheBrokenBrownEgg. A librarian and writer, Regina's mission is to make people aware and active about the unique concerns of reproductive health in the minority community.