in
Advocacy
Fertile Kwanzaa – Ujamaa: Cooperative Economics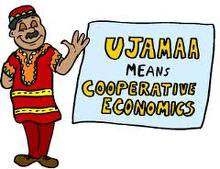 Originally Published 12.29.10 @ 1:27pm 
Habari Gani!?
Ujamaa!  The principle of today means cooperative economics, as well as social and economic development.  The focus of the principle is that African-Americans should support and promote other African-American businesses and institutions.  The reason for this thrust is based on the belief that of all other cultures, African Americans have the least amount of cultural identity and resourcefulness.
As I thought about how to relate this particular principle to The Egg, I continuously hit a wall.  You see when I first thought about it, I planned to promote other blogs and infertility resources that catered to African-American patients.  Then I remembered…

LOL
While the field is growing, it surely isn't the largest.  However that is no reason for me to not share with you guys the outstanding Fertility blogs and resources that I have found which are either founded or written by African Americans.
Books

:

More Info on Why I'm Special!

Visit The Quest for the Nest on Facebook

Purchase The Quest here!

Check out the blog for Lena Arnold, author of For This Child We Prayed: Living with the Secret Shame of Infertility.

Check out Joshua's Coming by Rhonda White
Blogs And Social Media

:

For a list of other blogs that are written by African Americans who battle infertility check out the BrokenBrownBlogs page up top! (If you have one and would like to be added, send me a message)

Facebook Pages & Groups:

African American Fertility (Facebook Group)
Fertility/Family-Building Organizations Created by African Americans
The Center for Family Formation
Other Great Causes I'd like to mention, also founded by African American women:
Cosmopolitan Kids – Raising children to be global citizens through cultural awareness and activity (co-founded by one of the Egg's board members!)
ChocolateBrides.com – The Premiere source of inspiration and sisterhood for the marriage-minded woman of color
So, that's what I came up with!  Not a lot, but still SOO much.  What's your Ujamaa today?  Shout out a business or resource that I may have missed.
Regina
Regina Townsend is the primary author and founder of TheBrokenBrownEgg. A librarian and writer, Regina's mission is to make people aware and active about the unique concerns of reproductive health in the minority community.
You May Also Like