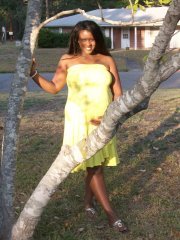 This past week, I was absolutely floored to see a good blog buddy, Jay, over at The 2 Week Wait be heckled on her site because she is currently pregnant.  A reader basically got offended that the site discusses infertility at all, and ranted that Jay should rename it because she is obviously no longer in "the wait".  This hurt my heart because it adds just one more hurdle for this community.  Infertility is hard enough without adding the fear of success onto the fear of failure.  We need as many voices in this fight as possible, and that includes those of us who've made it to the other side.  Isn't that the goal, anyway?
Followers of The Egg, know that from time to time, one brave sister, Mimi, or BrokenBrownBelle as we call her, submits an entry that chronicles her personal infertility battles.  In this three-part post, she will describe just how it feels to be a pregnant infertile who is finally close to being on that other side.
Today is the first full day of my third trimester & you are quite possibly reading this thinking I am the wrong woman for this job. What am I doing blogging about infertility on a web site while I'm pregnant?
Surely, I am one of the blessed ones, right?
What do I know about this subject?
Although I have gotten a lot closer to answers in my own quest to end my personal infertility, I am still no closer to gaining answers on exactly "what am I doing here", or "how did I get chosen for this place"?
Here is what I can tell you:
A battle with infertility is never over.  It is and will remain a sensitive subject for everyone involved and pregnant or not you will never forget it once you have lived it. Yet, I refuse to complain. I am not here looking for sympathy. I am not going to offer up tips on how I got through morning sickness or talk about how much weight I've gained this whole time.
The truth is, this pregnancy has been fairly easy for me. But, my journey like many others is not over and has not been easy in the least. Infertility is a slinky little sucker. It has many disguises and tricks. It makes you afraid, insecure, destroys marriages…and a whole host of other things infertiles are never prepared for.
The title of this post should be "preparedness" because once you try to take on infertility you will never be prepared for what is going to happen next. You start off fed up.
You are not getting the answers you want from your doctors. There isn't enough support. You have just one more question and you are convinced that one more question is going to make your doctor think you are a wierdo and never want to treat you again.
So, you sit on the question.
You drive home thinking, "ugh, when am I going to take this situation into my own hands and get these questions out in that office!" So, you make your mind up to do just that & decide that it is a matter of health & safety.
You take the leap.
You start opening the door and asking more questions at your appointments. Sooner or later you become more comfortable with your situation and you  start talking to people. You discover there are others. You decide then & there that you are not crazy, and you are glad you are doing this. Then there are more appointments, more doctors, different doctors in your life.
You take another afternoon off and wonder what your boss thinks of this. Will you have a job to finance these plans? And if you are doing the right thing.
Then there is the testing. You started off afraid of needles now the phlebotomist at your clinic knows you by name. They take blood every week. They want to regulate your thyroid. You are wondering what your thyroid has to do with your infertility.
You start reading. Your Dr has told you not to, but you have taken to the net. You find that there are others…again, outside of your friends and family. Faceless others who are willing to speak. There are thousands of them, hundreds of thousands of them.
Fear sets in. You wonder "how will God pick you out of the thousands you read about?" You read your first success story. You read your first success then miscarriage story. You read your first success then miscarry, start over again story. You know now this is why the Dr. wanted to you stay away from the net.
There are more appointments. Your husband is worried about you. Your sex life is suffering. How are you gonna make a baby without sex?
You wanna know "what is PCOS?" How did you get it? How can you get rid of it? If everyone has it, what takes Dr's so long to bring it up? They start treating you for more things, regulating more issues. Things you never thought of, like blood sugar. Again, you wonder what this has to do with reproduction.
They introduce a diet. Or you read about a diet and introduce yourself.
Your family wants to know why there is a pharmacy in your purse. You hate the pharmacy.
The bills start rolling in. You hate your insurance company. You are starting to think "why would anyone put themselves though this?" You want to quit. You've spent too much money to quit, more bills pile up.
The doctor wants you to try the injections. You can't imagine injecting yourself… I could go on. For many women, this does go on, way past injections. To a point that I know nothing about.
Thank God I know nothing about that point. Many times before this point I wanted to give up. Thank God I didn't.
Stay tuned for parts 2 and 3 of Belle's journal towards healing.  We're happy for and proud of her!
BrokenBrownBelle
Broken Brown Belle, guest author of The Egg, is a spicy southern belle currently living in Shreveport, LA., that started her fertility journey about 2 years ago. Through money, marriage, men, babies, health, spirituality, culture, socio-economic status, friends, co-workers, and life ahead of her, she is taking it one step at a time. "Belle" invites her readers to join her exploration, as she seeks answers about the infertility plaguing her eight year marriage.
You May Also Like