I'm in an awkward, awkward state of affairs at the moment.
While most bloggers and writers suffer from writer's block and the feeling of having "nothing to say", I'm feeling quite the opposite, but with similar results.  Not only do I have things to say, but I have too many things to say.  There are tons of tales and stories of the epic battle between my feelings and my progress, as well as a few scandalous rants that I just want to unleash.  Yet, I spend the wee hours of the morning writing to you about what I want to write, rather than just writing it.  Odd, huh?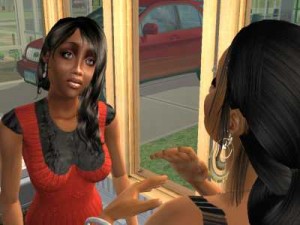 It is often hard for me to find clarity when my thoughts overlap and interfere with each other, and I'd rather not subject you to that.  Truthfully, I'm becoming a bit unnerved by the amount of things that I'm subjecting mySELF to. LOL  The transparency for which this blog has gained its momentum is not as easy a feat to uphold as some may think.  It is dreadfully hard for me to decide what to share boldly, and what to let fester in the corners of my mind for fear that I'll run you guys all away.
For instance,
My goddaughter has taken to calling my husband, Daddy.  This has perplexed me for about a month now and yet I couldn't quite bring myself to blog it because I knew how undeniably ridiculous I would "sound".  To be truthful and fair, she has no actual father to speak of, and for all intents and purposes my husband kind of is her dad.  He brought her home from the hospital, he's the primary male adult in her life, he picks her up from school every single day and is lord overseer of all homework.  He's her dad.  So why does this bother me?
Am I really that shallow and unfeeling of a person that I cringe every time she says it?
Yes.  Sadly, I admit that I am.
To adequately describe the way that it feels, would be to think of being in a classroom with a math problem on the board.  The teacher calls on you, who didn't have your hand up, and asks for a rapid-fire answer to the question.  You're not that great at math, and as you take your time trying to carry the one,…the class know-it-all blurts out the answer from the across the room, and your shot at the spotlight is swiped out from under you.  It's something kind of like that.  Like I didn't move fast enough to provide the opportunity for him to be a dad, so the universe did it for me.
The other, even MORE shallow reason that it bugs me a bit, is that for all his daddy-ness, I'm just Gina.  She's got mother-figures coming out of her ears.  And on rare occasions, her real one even does step in.  So for all my library visits, godparent status, and hair-braiding, I still round out to the equivalent of "cool-aunt" or "tolerable stepmother".  I'm the consolation prize parent at best and somewhere around fourth or fifth in line at that!
But it's not about me, right?  Yeah.  I know.  Sigh.  When is it EVER about me?  I mean really?  It just isn't most times, but especially not in this, because the fact of the matter is that I had/have a dad.  I know what it's like to call someone Daddy, and have them pick me up and even scold me, and I know the value of having had that.  And for those reasons I would be a total a$$ to deny that of someone I claim to love as I do her.  So I don't say anything at all.
But it stings me a bit, nonetheless.
And these are the kind of "transparencies" that can only live here on The Egg.  LOL  These are the public displays of "I can't believe she said that!" that you won't find anywhere else folks.  Get em while they're hot.
And at the end of it all, my own fertility has reached a stalemate.  While many things physically have regulated, (or tapered off, depending on how you look at it), financially I'm still at a standstill, which puts everything else on hold as well.  Until someone looks at my resume and says, "Hey, let's actually meet this chick", I'm unsure of where the next steps should be in terms of my own infertility.  Oftentimes, because of how this blog has grown into a resource for others, I tend to forget that it started out as a vehicle for my own rants and mental dumps.  I have to stop doing that.  And in my one push towards advocacy today, I encourage you to do the same.
When you need to unload the baggage that is taking up space in your mind, please do so.  Do not pass Go.  Do not collect $200.  Just DO IT.  For some of us, blogging has been therapeutic.  If you ever want to test-drive The Egg, send me an email!  If blogging is too bold for you, get yourself a Google Docs account and just write to yourself.  Start a blog and set it to private, or invitation-only, so that your sharing is protected.  Buy yourself an actual paper journal.  Make an encrypted file on your computer.  Whatever you have to do, DO IT.
Thoughts are the heaviest things we carry around each day.  They can grow to weigh more than book-bags and couches if you don't nip them in the bud.   Unload on me if you have to, I'll be sitting right here dropping my own mental cargo.  There is no prize for being the best long, silent sufferer.  So why waste that energy?
Tags:
children
,
Confusion
,
Coping
,
family
,
Feelings
,
Finances
,
Frustration
,
Hissues
,
infertility
,
Miscellaneous Rants
,
parenting
,
Parenting
,
Random Thoughts
,
Sadness
,
Tales From the Darkside
,
The Emotions
,
waiting
Regina
Regina Townsend is the primary author and founder of TheBrokenBrownEgg. A librarian and writer, Regina's mission is to make people aware and active about the unique concerns of reproductive health in the minority community.