in
Hissues
Musical Therapy: You Are My Man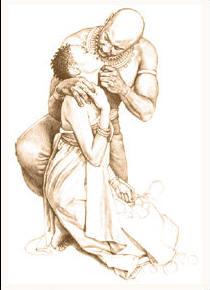 Okay…this one threw me for a loop.  First of all, the melody is intoxicating and Tamar Davis sings her FACE OFF.  As usual, I'm looking at something that has nothing to do with infertility when something drives itself home.  This time, it was Tyler Perry's newest play "Madea's Big Happy Family".
As I listened to the words, I started to seriously think on how our attitudes begin to clash as we go through fertility issues.  Many times our spouses and partners fall directly in the line of our fire as we battle disappointment, despair and utter frustration.  This song, sung to a spouse who has been just that kind of victim, was powerful.
I'm sharing it as today's musical therapy because I think that listening to it can truly make one realize where they may be not giving their partner the respect and admiration they deserve.  As a final dose of Kujichagulia, I'm taking it as my cue to watch my tone and my actions.  Take it and learn from it,…and after that, listen to it again because as I said Ms.Davis is singing her entire hair off.
Audio clip: Adobe Flash Player (version 9 or above) is required to play this audio clip. Download the latest version here. You also need to have JavaScript enabled in your browser.
Lyrics:
Why is it so hard to get over your past? Why am I still hurting?

Why does this anger last?  If you would help me, I will try to help me too. Just dont leave me, I wont make it without you.

I-I-I-I-I get so mad. I take it out on you. I know you wanna help me with all the wrong I've done to you! All you wanna do is love me! But I keep pushing you away. All you ever done is cared for me and I say no please go, away. I-I-I don't know why, why you love-ove-ove me.

But I'm so glad you do, you do-o-o-o-o Thank you for putting up with me And all the things I put you through, ohhhh.

I get so sad and mean towards you. But just hold me until the moment is through.

Oh You are my man, My real Good Man. So strong for me. My one true friend. You are my man. My lover man. Don't give up on me.

Please understand!
Tags:
Coping
,
family
,
Feelings
,
Hissues
,
music
,
Musical Therapy
,
Tales From the Darkside
,
The Emotions
,
The Relationship
,
waiting
,
Weight loss
Regina
Regina Townsend is the primary author and founder of TheBrokenBrownEgg. A librarian and writer, Regina's mission is to make people aware and active about the unique concerns of reproductive health in the minority community.