in
Advocacy
Speak up, Shut up, or Shut down.
Are we, the infertility community, too sensitive?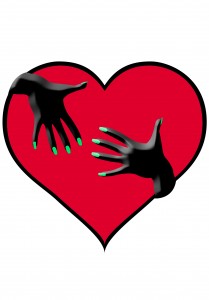 I've been watching the activities of the NAACP lately, and I've wanted to go, "please, shut up. If you whine about stupid things, no one is gonna listen the next time we really need you".  Though recently, as I've watched my other culture, the infertile, I have to admit that I've begun to start feeling the familiar twinge of wolf-crying.  Are our feelings the responsibility of those around us?  Is it fair to superimpose our emotional baggage onto those who are unfamiliar with infertility?
My answer: Yes…and No.
I've become aware that education, rather than battle is the best way to counter injustice or ignorance.  The idea that we are trying to "force fate's hand", "play god", or that infertility isn't a disease, are all things we must counter.  However, it would be ill-advised to start lashing out at everyone who says otherwise.  We all know about bees, honey and vinegar, don't we?  Yet, the feeling of wanting to yell in the face of people who loudly complain of their swelling feet is tough.  Resisting the urge to slap fire from the three or four preggos who stand by your desk and compare "back ache" stories, is a feat.  I understand.  But maybe they haven't been educated about infertility. Maybe they have no idea that what they are saying or doing could be mistaken for insensitivity?
My battle with this, is as usual, two-sided.  Blame the Libra in me.  I struggle with my feelings about this because on one hand, I do think that sometimes we need to go cry a river in the privacy of our own space.  It is a big, big world, and everyone isn't going to be aware or even caring about our not being able to deal with their upcoming baby shower.  Sorry kids, these are the breaks.  As much as I empathize and sympathize, I can't help but feel a tad whiny about the whole thing.
But then there is the other side of me.  The side that cringes when people cast off little "ooh, sucks for you", quips before they unleash a can of "look at my bump", comments.  This side of me is enraged by people who find a way to weasel in the every nuance of their life in the mother-hood.  They are the cheerleaders, flashing their shiny new Keds and pom pons in front of the poor saps who didn't make the list.  They are in a club where you don't belong, they know it, and they blabber on about it anyway.  THOSE people…irk me, and leave me wondering what can I actually do to not feel like a brat, while at the same time, standing up for my feelings?
There are different stages I've gone through at this point.  At first, I ignored it altogether.  Why should I act all stank because someone else is excited about their new nursery?   But then, I'm prone to shooting myself in the foot.  I make people think I'm SO comfortable, that they don't even think about how uncomfortable they might make me.
Regina's fine with it! Right Regina? Anyway, my huge belly, blah blah…and I can't believe how much I ate today, yadda yadda, and my oh my how am I gonna fit that new crib in my budget, blah blah.
Which leaves me with this face: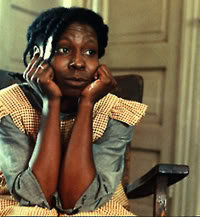 Because…ding!ding!ding!  I brought that on myself!  I never wanted people to stop talking to me completely, so I made a conscious decision to act as though nothing bothered me.  Genius wasn't it?  To me, it was a no-win situation.  If I said, "Yikes, hey…um, that whole, you hate how fat you look…at 132lbs…while I'm every bit of 2– withOUT being pregnant,…yeah, that makes me want to claw my thyroid glands out", I might make people not want to talk to me for the duration of their pregnancy.  I don't want that.   I don't want to be thought of as, "the poor barren one", who can't handle conversation.   So at the end of the day I find myself wondering again, what if we are just being sensitive?  What if that comment/picture/invite wasn't as harsh as I felt it was?  What if it isn't about me?
But then again, what if it is?
So here is where advocacy comes into play.  We have to keep talking about this. We have to educate those around us about what is and isn't comfortable for us.  Perhaps if we were more honest, there wouldn't be so many instances of us having to shy away into the background.  Not just honest with others, but honest with ourselves.  Yes, some things are out of pocket and seem to have an air of "nah nanny naah naaah".  Deal with those as they come.  Nip them in the bud however you see fit, either by gently making it known to the offender that you were displeased or by backing away for a while.
However, there is the other side.  The side that we don't want to admit as readily.  That side is the one that admits, yes, you may have taken that status/message/photo as a diss because you just got your BFN this morning.  Yes, sometimes we are just really in a bad "I hate infertility", mood, and the objects in our reflectors are smaller than they appear.
Tags:
Advocacy
,
Anger
,
Breaking the Silence
,
Coping
,
Feelings
,
infertility
,
Insensitivity
,
Miscellaneous Rants
,
parenting
,
Random Thoughts
,
The Emotions
Regina
Regina Townsend is the primary author and founder of TheBrokenBrownEgg. A librarian and writer, Regina's mission is to make people aware and active about the unique concerns of reproductive health in the minority community.
You May Also Like