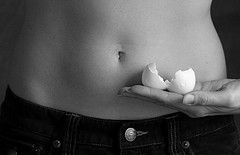 "So when are YOU two gonna have kids?"
"Ummm, I dreamed of fish last night, girl, your turn is right around the corner."
Etc.
These are common conversations, right? And what are the usual responses?
"Oh, we're waiting on our careers to stabilize."
or
"Hey, you never know."
or even,
"You know, we're just enjoying being by ourselves right now, a baby would really get in the way of what we're trying to do."
When in fact,
"A recent report from the Coronary Artery Risk Development in Young Adults (CARDIA) study indicates that among non–surgically sterile women, African American women had a twofold increase in odds of reporting a history of infertility. Financial barriers limit access to diagnosis, evaluation, and treatment and may lead to selectively underestimating the frequency of infertility in the same population groups."
Check out these statistics found on the Families of Color Initiative site:
6.2
million women between the ages of 15 and 44 are diagnosed as being infertile.
40%
of infertility is caused by female factor, 40% is caused by male factor, and 20% is caused by a joint male and female factor.
Only
one third of women of African descent who face this issue seek treatment.
The African American community has never been vocal on health issues the way that other communities are, and infertility is one major area where we are lacking exposure. Going past the choice not to conceive, and trying to get some more dialogue about the other end of the spectrum. I grew up and found out that out of my aunts and cousins, many of the ones I thought CHOSE to have one child or no children, were GIVEN that choice by thyroid, PCOS, Fibroids, or Secondary Infertility. We have to stop being quiet because a LOT of little black girls grow up trying NOT to get pregnant without ever knowing that they're going to need help TO get pregnant.
Regina
Regina Townsend is the primary author and founder of TheBrokenBrownEgg. A librarian and writer, Regina's mission is to make people aware and active about the unique concerns of reproductive health in the minority community.